Parenting comes with its own challenges, as it becomes a real task when their little babies enter their teens. Teenage is specifically described as the age group of 13-21, and as fun, as it sounds to the kids, it is equally horrifying for the parents. Welcome back, I am Bapin K. Panda and I am going to take you through the journey of teenagers. Today we are here talking about teenage, and the package of drama it comes with. This is a vast topic so I will take you from three perspectives, Third-person, Childs POV and Parents POV. 
---
There's a scene in the latest season of Sex Education where Jean (Gillian Anderson) sits across from her son Otis (Asa Butterfield). They're fighting, because he's awful. He whines at her, the way teens do, about why she doesn't just forgive him. It's so unfair! Wanna know more about the show, read Netflix upcoming.   For a show, where kids figure out about sex, it is also a beautiful piece of creation about the hardest part of parenting: teenagers. Consider it as an insight to parenting, the Children POV
Expectations
Every parent expects their wards to be different from the rest, be the "good ones". They shall be thoughtful, responsible young adults who do everything right. They shall respect them and talk openly and act kindly. They hope to be their child's' best friend, and this is where they go wrong. You cannot expect someone who is going through massive hormonal, physical and mental changes to come out and start talking to you about things they have no idea about. The one person they think they don't need at that stage is a parent. But it is not easy to steer away from child you have been nurturing for 12 years, and suddenly they want freedom. Bizzare right? Truth be told, it is as difficult for the children themselves as it is for parents.
As a parent recollects the thoughts of bringing up their cubs, wishing they grew up and could have conversations with them, like they have been watching on TV, sharing thoughts, planning surprises for their parents, playing games together. But once they are 13, oh the horrors they face. Slammed doors, unwanted arguments, wrong comprehension of conversations and this is just the beginning. But these are all the problems! Where is the solution?
---
How to approach?
Once gentle, quietly worried toddlers are now aggressive panic-ky giants. Managing them gets tougher and getting under their skin becomes easier. Now they answer back in voices a parent doesn't recognise. Sassing. Ignoring. Slamming doors. One buys the wrong food, the uncool sneakers, the off-brand snacks. The point is simple, their kids are finding themselves, and Parents don't know who BTS is, or how to do cosplay. And turns out to be that parents somehow become two things. Either too much and not enough! despite their efforts.

Amid all this drama, the one person a teenager runs to is a friend. And that is precisely who you wanna be to them. Consider you have a kid who is in his prime teens (say 15), he wants a bike which is kinda, absurd, but guess what, all his friends have it.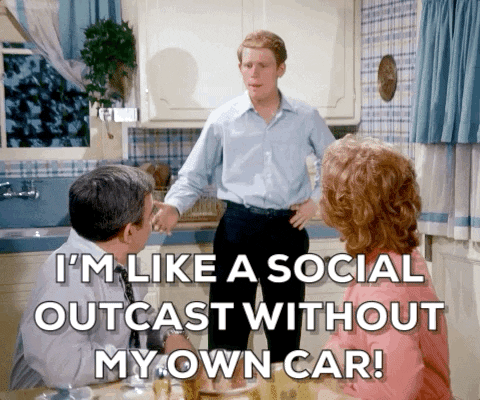 It gets tough, and both you and your spouse deny him. In such a case, he would not confide in either of you, and he will run away to complain about his ignorant parents to another teen, who apparently has the same issues, and is not helping. But he is a friend, and the fear of judgements and the social boundaries with a person your age is low.
But what if one of you supported him and talked him out of it, whilst the other took stand as a parent denying the need to have a bike. he would confide in one of his parents, and that would just be very much reliable. 
Be their friend. 
---
The need for the hour
Babies' needs are simple. When they cry, there are four options: hungry, tired, dirty, gassy. Now, when teenagers cry one has to unpack a lifetime experience of trying to understand the reason.
They have abstract ideas but don't know how to fix them. They are worried about things one can't solve. Social stigma overpowers their personal judgement and influential circle initiates mental bankruptcy. As a parent, the prime need to protect your child comes to your mind first, so we try solving the issue as a parent. where all that is most needed, is to sit and talk.
And believe it or not, this mutual understanding and connection are established during childhood. Of course, your child loves you, but from where he standing, his attention is divided, in understanding why he is suddenly feeling angry, anxious, jealous, competitive, unloved all at the same time. Being in that situation if one tries to talk him into what remotely looks parental, drives him away. From another perspective, all a parent sees is a bereft, distanced child whom they cannot fathom losing. 
If you want them to open up, you have to meet them halfway. Share your teen stories, experiences, your mistakes. Tell them its okay to wrong, because that is the only way you will learn. Give them the confidence that you will believe them first in whatever they do, and will back them when they fall. That is all the thing they need to know, and then you will see them opening up slowly. 
---

Parenting a teenager gets worse before it gets better. They are tough and stubborn yet fragile enough. At their worst, they fight and cry and misunderstand. But their best is amazing, and you know that's what is going to last. They can be snarky and flippant, but they're sharp and clever. They care deeply, argue loudly and are ruled by their hearts (or hormones).
What they need is understanding the dubious and silly-looking statements that mean the world to them. In times ridden with challenges ahead in sustaining life, family- a healthy family at an arm-stretch distance fills the world with satisfaction-a much-needed thing, that lacks in the present generation. Assurance from you will strengthen the bond and the relationship of a parent and a teenage would triumph beyond expression. Show them, that you love them, believe in them no matter what mistake they do because You are and you always will be a Proud Parent.
Parenting is a process, and for all, I know there is nothing that can match the unconditional love for their children. Dedicated to all the parents who burn their arse, sacrifice their interest and invest priceless time in raising an individual of their own coded gene !!!
  Adios.
 Bapin Kumar Panda